Well I think we can quite safely say that winter has arrived. I'm rocking a woolly hat on the school run and every day is an argument about whats a reasonable number to have the heating on [FYI its 22 at least!!! Not the poxy 18 Rikki keeps putting it on!]
Anyways I was given the fabric and the pattern for this skirt at the start of summer [By the awesome lady who also gave me the
vogue coat stuff
] I loved the pattern and the fabric but held off making it for ages because I knew that making a wool skirt in summer wouldn't be practical and that I'd be gutted if I loved it and couldn't wear it right away. Plus its always nice to save yourself a lil something to stitch up at the start of winter isn't it?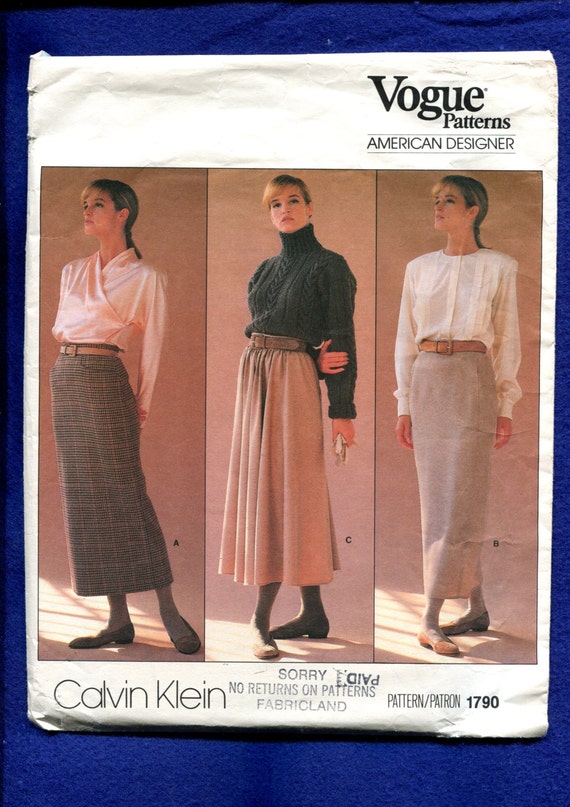 The pattern is Vogue 1790 which is a Calvin Klein pattern [
you can find it here
]. I love that the big designers released patterns via vogue back in the day. I think its a bit less common now and if there is a designer pattern it tends to be a bit more of an obscure shape!
Anyway I opted for view A which is a classic shaped pencil skirt but with front pockets instead of darts. I'm not sure what its called but its the type of pocket you might find in your jeans at the front? I've never done this type before so I was a bit daunted!
Eurgh my hair is terrible at the moment, it definitely needs a good cut!
I cut a size 12 from the pattern and the fit is pretty bang on. In fact the only adjustment I made was to shorten the whole thing by about a foot! No seriously I took 12 inches off. I do not have the body/legs/height for midi length. And after taking these picture I lobbed another inch off and re hemmed it again.
Taking a foot off did mean that I lost the back vent. I'm not a huge fan of back vents to be honest because I'm always terrified that they weaken the back seam and that I'll end up splitting the skirt and showing the world my knickers! I can see the practicality in them though because walking in this is a small stride affair only! Much to Rikki's disgust that I can't keep up with his big man steps! It also means I walk like Marilyn Monroe with a wiggly bum but I;m not 100% that's a downside?!
Pattern matching wise everything lines up pretty well apart from the back seam of the skirt, but the zips a mess anyway so chances are I'll redo that at some point anyway. The fabric is wool, I worked this out via a burn test and by how darn scratchy it is! The pattern actually calls for a lining but I have a few slips that I use instead of lining so I skipped it!
I did opt to overlock all the edges of my skirt pieces before sewing though just to make sure that the fabric wouldn't fray. Its not a particularly loose weave but I don't like to take any risks where my dignities concerned!
How awesome are the shoes by the way? They were one of my £1 charity shop pairs and they are actually pretty comfy!
The pockets turned out better than I thought to say it was my first time doing this sort, I've got to say pressing worked wonders on getting them to look halfway decent. I had some trouble with the clipping and turning bit, so one of them is stitched closed until about half way across to keep it flat. But to be honest you can't really put anything in them anyway, 1. they are too shallow and 2. My stomach is not somewhere I like to add extra bulk! Even if its just my mobile phone!
The waistband ended up being a bit bulky [I think that's what led to my zip issues] The waistband is cut on one piece that you fold over, as is the interfacing. So technically you get a double layer of interfacing and a double layer of wool. Which I didn't realise until I'd fused my thick interfacing to the waistband. Next time I'd hack the waistband so there was a waistband and a waistband lining and I'd just do one layer of interfacing. Plus that way I could use a cotton to line the waistband which would be a bit less scratchy on the old tum tum.
All in all I really love it and I'm always pleased to have another wool skirt in the old wardrobe! I think my favourite detail is the front pockets and they also provide the shaping for the front of the skirt so no darts in the front just in the back!
In other news!
The winter boots are out!
I'm looking forward to my demo at Hanley Abakhans on sew Saturday! So if your in stoke on the 21st October pop down and say hello! I'll be there until about dinner time!
Much Love
Frankie
xxxx